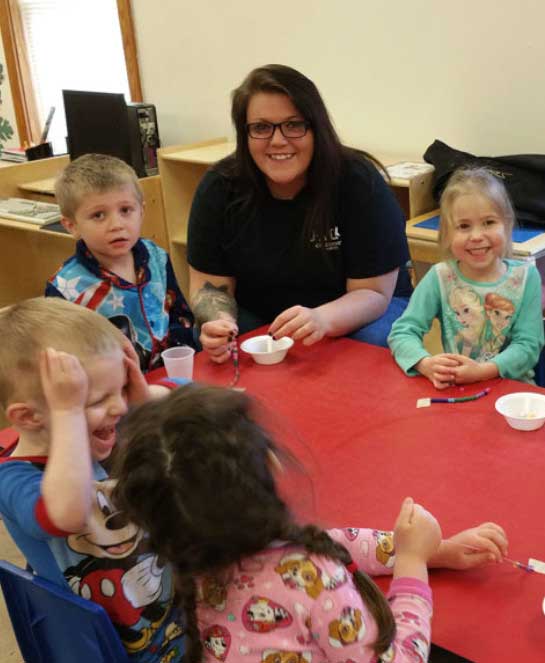 Head Start
PROVIDING PRESCHOOL OPPORTUNITIES
Head Start is a comprehensive early childhood education program that was established in 1965 to provide services to preschool children of low-income families. The program is funded by the Department of Health and Human Services, U.S. Department of Agriculture, Non-Discrimination Statement and donations.
Since 1965, thousands of three and four year old children and their families have received services through Head Start. Northern Kentucky Community Action's Head Start Program has 11 locations currently located in Campbell, Kenton, Boone and Pendleton Counties.  Over the years Head Start has become an established program that continues to grow in response to the needs of the community by offering a number of comprehensive services to meet the needs of preschool age children from economically disadvantaged families and/or children with disabilities.
HEAD START SERVICES CAN BE FOUND AT THE FOLLOWING
NKCAC & CHILD CARE PARTNERS LOCATIONS:
Alexandria Head Start Center
51 Orchard Lane
Alexandria, KY 41001
Phone: (859) 448-0777
LLC Head Start Center 
(inside Life Learning Center)
20 W 18th Street
Covington, KY 41011
Phone: (859) 740-3335
Boone County Head Start Center
3261 Maplewood Drive
Burlington, KY 41005
Phone: (859) 201-3450
Eastside Childhood Education Center (Covington)
1001 Scott Street
Covington, KY 41011
Phone: (859) 581-6610 x2963
Dayton Head Start Center
(inside Lincoln Elementary)
701 Fifth Avenue
Dayton, KY 41074
Phone: (859) 292-7492
Elsmere Head Start Center
1021 Capital Avenue
Elsmere, KY 41018
Phone: (859) 727-6232
Falmouth Head Start Center
409 Barkley Street
Falmouth, KY 41040
Phone: (859) 654-2958
Fort Wright Head Start Center
501 Farrell Drive
Covington, KY 41011
Phone: (859) 331-7742
Newport Head Start Center
502 West 9th Street
Newport, KY 41071
Phone: (859) 431-4177 x1002
Northern Elementary Head Start Center
925 State Hwy 177 E
Butler, KY 41006
Phone: (859) 472-7341
Taylor Mill Head Start Center
(Taylor Mill Elementary)
5907 Taylor Mill Road
Covington, KY 41015
Phone: (859) 356-2566
Head Start Administrative Office
437 W 9th Street
Newport, KY 41071
Phone: (859) 655-2986
For list of locations click here
Apply today in English!
Aplicar hoy en español!
Head Start children and their families can count on these services:
Individual teaching and educational opportunities
Speech, language and hearing screening
Health care promotion
Social services
Mental health services
Services for children with special needs
Nutritious snacks and meals
Vision/Dental screenings
Parent involvement opportunities
Leadership development and training opportunities
Kindergarten readiness
The four major components of the Head Start Program:
Education:
The educational program is developed to meet each child's individual needs. Every child receives a variety of learning experiences to foster intellectual, social and emotional growth. Learning is through play and developmentally appropriate activities.
Health/Nutrition:
The importance of prevention and early identification of health and nutritional concerns are the foundations of these components. We make sure every child receives comprehensive health care, including medical, dental, mental health and nutrition services. Nutritious meals and snacks are served "family style" to provide children with the opportunity to serve themselves while having meaningful/instructional conversation with teaching staff & peers.  "Family style" allows for children to practice table manners and healthy eating habits.
Parent Involvement:
Parents are their children' s first teachers. Head Start parents are empowered through extensive training throughout the Head Start year. Head Start empowers parents to become leaders. Each parent is automatically a member of the center's parent committee, and each center elects parents to serve on the agency's Policy Council, which makes important program and governance decisions related to the operation of the Head Start program.
Social Services:
Specially trained family advocates assess family needs and help them access the services that will build upon the individual strengths of the families to help them become self-sufficient.
If you would like to consider supporting our Head Start programs consider donating any of the following:
Art Supplies
Portable "smart" TVs on stands for moving between Head Start Classrooms
Educational computer games for preschool age children
Gift certificates to hair salons for haircuts for back to school (for kids) or pre-interview (for adults)
Tickets for family friendly cultural destinations (Cincinnati Zoo, Children's Museum, Stage performances, Ballet, etc.)
Books, educational toys, gross motor toys for our Head Start centers, and books for the children to take home, too.
Non-Discrimination Policy: "The U.S. Department of Agriculture (USDA) prohibits discrimination against its customers, employees, and applicants for employment on the bases of race, color, national origin, age, disability, sex, gender identity, religion, reprisal, and where applicable, political beliefs, marital status, familial or parental status, sexual orientation, or if all or part of an individual's income is derived from any public assistance program, or protected genetic information in employment or in any program or activity conducted or funded by the Department. (Not all prohibited bases will apply to all programs and/or employment activities.)