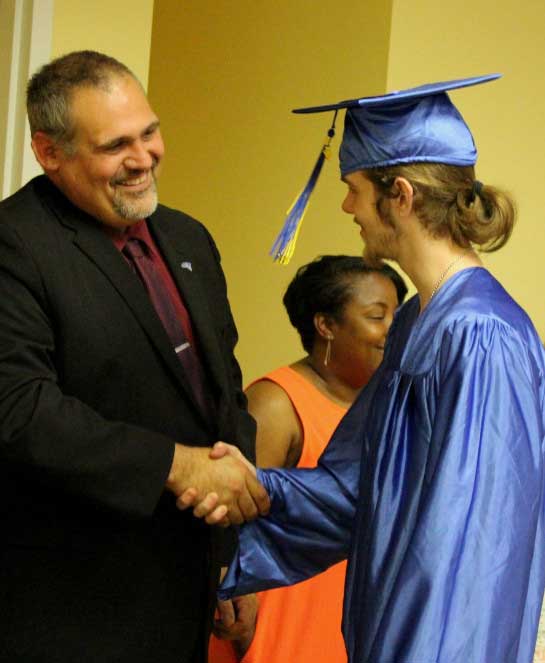 Youthbuild of Northern Kentucky
DEVELOPING NORTHERN KENTUCKY'S FUTURE LEADERS
Northern Kentucky CAC's YouthBuild of Northern Kentucky (YBNKY) program works with young adults between the ages of 16 and 24 to create a place where they can complete their secondary education, prepare for post-secondary education, and gain valuable life and career skills.  While enrolled with the program, participants are encouraged to grow and develop to their full potential and to find their true value.  They earn their High School Diploma or G.E.D., and complete Construction Skills training and Customer Service Excellence Training, both leading to industry-recognized credentials, and offering excellent employment options and opportunities.  They are presented with opportunities to complete job shadowing, site visits, work experience, internships and college visits.  They will also get to meet with many prospective employers who come to visit our center, and will attend local job fairs and hiring events on a regular basis. YBNKY participants are provided with leadership development opportunities, cultural knowledge events, and a family-like environment that respects the young person while challenging them to be their best self and holding them to a high standard of expectation and behavior.  While contributing to their Communities through service projects, participants learn to see themselves and their communities differently.  We are proud to partner with Housing Opportunities of Northern Kentucky, Neighborhood Foundations, and The Newport Adult Learning Center.
YouthBuild is a national program available in Northern Kentucky through Northern Kentucky CAC. Learn about the impact that YouthBuild programs throughout the nation are having on young people's lives.
For more information on the YouthBuild Program, please contact us by clicking here
Thank you to AmeriCorp for support the spirit of service and lifelong education which are at the heart of our YouthBuild program.